AstronomyOutreach Awards
From AstronomyOutreach network
(Difference between revisions)
(2 intermediate revisions not shown)
Line 1:
Line 1:

[[File:Astronomyoutreach aooa noborder.jpg|right]]'''The AstronomyOutreach Award (the "Astro Oscars")''' honors the very best in astronomy outreach and public education each year. Categories include Individual, Professional, Club or Society, and Special. The awards are announced each year at the [[Winter Star Party]] in the Florida Keys.

[[File:Astronomyoutreach aooa noborder.jpg|right]]'''The AstronomyOutreach Award (the "Astro Oscars")''' honors the very best in astronomy outreach and public education each year. Categories include Individual, Professional, Club or Society, and Special. The awards are announced each year at the [[Winter Star Party]] in the Florida Keys.

-

The Annual AstronomyOutreach Awards are sponsored by [[Oceanside Photo & Telescope]]. Award nominations are voted on in committee chaired by [[Dr. Mike Reynolds]] (Executive Director Emeritus of the Chabot Space & Science Center and ALPO Board Member), with fellow committee members [[Tippy D'Auria]] (WSP Founder), [[Dr. Stephen J. Edberg]] (Executive Director RTMC), [[Scott W. Roberts]] (Founder of the AstronomyOutreach network and President of [[Explore Scientific]]), and [[Terry Mann]] (Former President of the [[Astronomical League]]).

+

The Annual AstronomyOutreach Awards are sponsored by [[Oceanside Photo & Telescope]]. Award nominations are voted on in committee chaired by [[Dr. Mike Reynolds]] (Executive Director Emeritus of the Chabot Space & Science CenterALPO Board Member), with fellow committee members [[Tippy D'Auria]] (Founder ), [[Dr. Stephen J. Edberg]] (Executive Director RTMC ), [[Scott W. Roberts]] (Founder of the AstronomyOutreach network and President of [[Explore Scientific]]), and [[Terry Mann]] (Former President of the [[Astronomical League]]).

==Nominations==

==Nominations==

Nominations are being accepted now for the next AstronomyOutreach Awards. To place your nominate, please see our [http://www.astronomyoutreach.net/nominate/ AstronomyOutreach Award Nominations] page.

Nominations are being accepted now for the next AstronomyOutreach Awards. To place your nominate, please see our [http://www.astronomyoutreach.net/nominate/ AstronomyOutreach Award Nominations] page.

+
+
+
+
+
+
+

==2013 Recipients==

==2013 Recipients==
---
Latest revision as of 04:47, 9 March 2014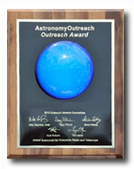 The AstronomyOutreach Award (the "Astro Oscars")
honors the very best in astronomy outreach and public education each year. Categories include Individual, Professional, Club or Society, and Special. The awards are announced each year at the
Winter Star Party
in the Florida Keys.
The Annual AstronomyOutreach Awards are sponsored by Oceanside Photo & Telescope. Award nominations are voted on in committee chaired by Dr. Mike Reynolds (Executive Director Emeritus of the Chabot Space & Science Center, ALPO Board Member, Dean of Liberal Arts Florida State College Jacksonville), with fellow committee members Tippy D'Auria (Founder of the Winter Star Party), Dr. Stephen J. Edberg (JPL Scientist, Executive Director RTMC Astronomy Expo), Scott W. Roberts (Founder of the AstronomyOutreach network and President of Explore Scientific), and Terry Mann (Two-Time Former President of the Astronomical League).
Nominations
Nominations are being accepted now for the next AstronomyOutreach Awards. To place your nominate, please see our AstronomyOutreach Award Nominations page.
2014 Recipients
2013 Recipients
2012 Recipients
2011 Recipients
2010 Recipients
2009 Recipients
2008 Recipients
2007 Recipients
2006 Recipients
2005 Recipients
2004 Recipients