Chesmont Astronomical Society
From AstronomyOutreach network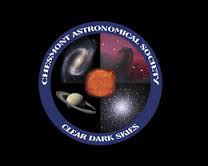 Chesmont Astronomical Society
is a non-profit amateur astronomy club that exists to observe the night sky and to talk about what we have seen. We meet each month at the Crow's Nest in Elverson, Pennsylvania, and we observe every dark window and every other chance we can get!
The Chesmont Astronomical Society helps scouts get their astronomy badges. We help teachers at local schools, with talks on astronomy and light pollution. We help pass light pollution laws to preserve the night sky and its many jewels. We host the StarFest each year. But, most of all, we enjoy observing the night sky. Every chance we get, any time of year, we'll be wandering around in the dark trying to see what's up in the sky. Observing is our passion and it drives everything the club does.
Membership
The Chesmont Astronomical Society is open to astronomy enthusiasts of all ages. Everyone everywhere is welcome to join this web site and participate in the discussion forums. The only difference between web-only members and full club members is that club members have access to the members-only area of the forums and they can attend the annual holiday party. So, if you think that becoming a dues-paying member of CAS is not for you, then think about this. Members' dues help provide StarFest, the Marsh Creek and French Creek Star Parties to the public, which helps expose thousands of people each year to the science and fascination of astronomy. In addition, dues help pay the fees of our visiting lecturers at our monthly meetings, as well as the costs of our annual StarFest that CAS hosts free of charge. New members can pay dues at any meeting of the club. Ongoing members pay on a calendar year basis. And remember, you don't have to be member to attend a meeting. Come see what we're about and decide. For more information, or to discuss joining the club, please attend a meeting or drop us a message via the contact page.
Awards and Recognition
Clubs and Certification Programs
Outreach
External Links