Cuyahoga Astronomical Assn.
From AstronomyOutreach network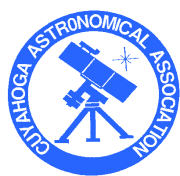 Cuyahoga Astronomical Assn.
is a nonprofit organization established in 1957. Its purpose is to organize local amateur astronomers and to promote the science of astronomy to its members and the general public.
Membership
CAA membership is open to the public. There are no special requirements to join, only an interest and desire to learn more about issues astronomical and to share that learning with others.
Awards and Recognition
Clubs and Certification Programs
Our programs are open to the general public. The programs are usually held in one of the Cleveland Metroparks or Medina County Metropark System, and at our observatory outside Spencer, Ohio. The programs typically begin with a presentation of an astronomy-related subject. Following the program, a star party is held (weather permitting).
So, what's a star party? Many times during the year, and following public programs, members of the CAA bring their telescopes out and allow the general public to view lunar, planetary, and deep sky objects. It is a great opportunity to look through different telescopes and compare them.
Outreach
The Astronomical League has a rich history of education and public outreach in astronomy from sponsoring the famous Astronomy Day event that is celebrated around the world by planetariums, clubs, and individuals. Through the coordination of for-the-public hands-on astronomical viewing events by members of its federation, through its annual Astronomical League Conventions, and through its numerous awards and certification programs.
External Links