Lima Astronomical Society
From AstronomyOutreach network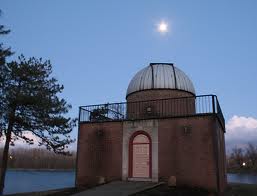 Lima Astronomical Society
has something fun and interesting for you to do whether you are a beginner or an experienced amateur. Our members are all Lima Area enthusiasts who truly enjoy the varied aspects of our hobby – public outreach, star viewing trips, scientific lectures, as well as private members-only dark sky viewing nights and more. The LAS has been operating since 1952 and proudly continues a long tradition of helping promote the appreciation of the wonders of the night sky within the Lima Area. Membership is open all!
The Lima Astronomical Society was founded as the Lima Astronomy Club in 1952 by Herbert Doughty , a seventh grade student.Herb obtained the names of people who checked out books from the public library.He contacted those people and started an astronomy club.The Schoonover Observatory is located in Schoonover Park , Lima , Ohio.The observatory became a reality in 1964 through the vision of the Lima Astronomical Society , the philanthropy of the Thomas R. Schoonover family , and the cooperation of the city of Lima.Club members ground the optics and constructed a 12.5 Newtonian Cassegrain telescope.This telescope was replaced by a 14 Celestron.For 35 years the LAS has provided educational programs and maintained the observatory.
Membership
Membership in the Lima Astronomical Society is open to anyone with an interest in astronomy or science in general.
All members have full voting rights. After 6 months new members can become key members with full access to Schoonover and Shoup Observatories.
Awards and Recognition
Clubs and Certification Programs
Outreach
External Links