Main Page
From AstronomyOutreach network
(Difference between revisions)
(→Featured Article: Kanawha Valley Astronomical Society)

Line 18:
Line 18:

==Featured Article==

==Featured Article==

-

'''Toledo Astronomical Assn'''

+

'''Astronomical '''

-

Toledo Astronomical Assn. Inc. is dedicated to the promotion of astronomy as a hobby and as a profession. The Association conducts regular meetings, star parties, and organizes viewing opportunities for schools, youth groups, civic organizations and the general public.

+

Astronomical is dedicated to the promotion of astronomy and and schools and the .

-

'''''( [[Toledo Astronomical Assn. Inc.|Complete article]] )'''''

+

'''''( [[Astronomical |Complete article]] )'''''

==Create a Page==

==Create a Page==
---
Revision as of 20:37, 4 January 2014
Welcome to the AstronomyOutreach network!
This organization was formed at the turn of the century as a free service to popularize and recognize individuals and organizations committed to the educational public outreach (EPO) in astronomy and space science. Here on this wiki you can learn how to get involved to help people in your community understand the wonders of the sky and the importance of science in our everyday lives by sharing your knowledge and telescope with the public.

Did You Know?
Starlight Festival
Get ready for the 1st Annual StarLight Festival coming May 24 and 25, 2014 in Big Bear, California.
Featured Article
Kanawha Valley Astronomical Society
Kanawha Valley Astronomical Society is a non-profit educational organization. We are dedicated to the promotion of amateur astronomy in and around the West Virginia area and work closely with local schools and the Avampato Discovery Museum at the Clay Center for the Arts and Sciences.
( Complete article )
Create a Page
Today astronomyoutreach.net is the top-ranked website for astronomy outreach on the Internet, and we invite you to take advantage of this to create greater awareness for the education and public outreach that you or and/or your organization is active in.
AstronomyOutreach network uses the MediaWiki platform to allow registered individuals and organizations to create and edit pages on this website. Be aware that your content can be edited by others who visit this site, but we specifically request that all content is somehow related to astronomy and space science with an emphasis on educational public outreach (EPO). Other content posted here that detracts from our mission may be deleted. Read more about the AstronomyOutreach network.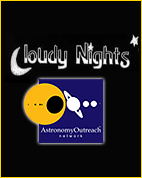 Forum
Our official forum for AstronomyOutreach network is hosted by Cloudy Nights. Support for the forum is made by a generous contribution by Astronomics.
Recognition
Also be sure to look at the many other awards programs from other organizations that have honored people devoted to astronomy, space exploration, and scientific awareness.