Midlands Astronomy Club
From AstronomyOutreach network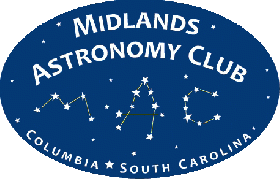 Midlands Astronomy Club
has existed to further the general knowledge of Astronomy in the South Carolina area. This continuing goal is shared by our members, representing many walks of life. Our members have a great range of expertise, from beginner to advanced, with a few professionals. You could say that we are definitely a group of enthusiastic amateurs. No matter what degree of experience in Astronomy you have, I know that the members will welcome you, and be glad to share their knowledge and share your knowledge.
Membership
Our indoor, or Business Meeting, is held the first1 Thursday of every month beginning at 7:30 p.m. in the ETV Telecommunications Center, at 1041 George Rogers Boulevard2. Our newsletter will advise of any changes in date or location. The meetings include some brief club business, a report of astronomical events, and featured speakers. Three times each year (Spring, Summer, and Fall) MAC has an AstroPhoto Contest with the annual run-off of the year's winners in November. We also try to include some time for "Show & Tell" near the end of each meeting to give members a chance to show off new equipment and related bits of information. After each meeting we have time for refreshments and fellowship.
Awards and Recognition
Clubs and Certification Programs
PLANETS FOR THE PEOPLE
Planets for the People, in coordination with the South Carolina State Museum, is a regular public outreach program hosted by MAC and the State Museum. Members of the club will set up several telescopes at various locations throughout the Columbia, SC area to allow passersby to observe the Sun, Moon and any planets that may be visible. Previous locations have included Hunter-Gatherer Brewery and Ale House, Mellow Mushroom in the Vista, and Chick-fil-A on Harbison Blvd. Refer to our Calendar of Events for the next Planets for the People event.
MAC EPIC
The Midland's Astronomy Club Educational Programs and Information Committee (MAC EPIC) was started in 1989 by members particularly interested in sharing their knowledge and love of astronomy with local schools and other groups. When you schedule an event with MAC, members will bring telescopes to your site for night observations. Solar observations and slide programs can also be arranged upon request.
We are a small club, however, and may not be able to meet all requests. We suggest teachers also check out the Solar System Ambassadors. There are several Ambassadors in SC.
ASTRONOMY DAY
Just like everything else nowadays, Astronomy has its day! Many clubs all across the United States celebrate Astronomy Day sometime in the Spring by holding a special program or observation, and for many years, MAC has participated in Astronomy Day.
A typical setup includes displaying several telescopes, so the public can learn about the different types of scopes. We may also have astrophotographs (taken by members) displayed along with star charts, so folks can see where some of the photographed objects are located in the sky. Members will be on hand throughout the day to answer questions about Astronomy and our club. There will be lots of informative handouts (Buying Your First Telescope, Star Chart/Sky Calendar, catalogs, etc.) as well as some neat demos.
Stay tuned for details for the next Astronomy Day.
SPECIAL OBSERVING EVENTS
While we certainly encourage folks to enjoy the night sky any time, there are certain celestial events that are easier seen with a telescope. When those events (eclipses, transits, bright comet, etc.) are visible over SC, MAC will sometimes organize a special public observing event. Details about any special events will be posted on the homepage.
Outreach
One of the goals of the Midlands Astronomy Club is to help promote Astronomy education and awareness throughout the community. To acheive this goal, members of the club regularly participate in outreach events tailored to the general public as well as local schools and other groups. For a list of upcoming events, please refer to our Calendar of Events.
External Links