Northern Skies Astronomical Society
From AstronomyOutreach network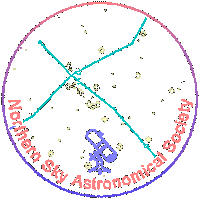 Northern Skies Astronomical Society
is an amateur astronomy club based in Grand Forks, ND. We are a UND associated club but membership is open to the public. Anyone with an interest in astronomy is welcome. We enjoy observing the sky and educating others about astronomy. As a member, you can get a discount on Sky and Telescope and Astronomy magazines and be invited to club star parties.
Membership
We usually meet every 2nd Monday of the month at 7:00PM. Check the schedule for changes. Remember, equipment and extensive knowledge of astronomy is not required.
Awards and Recognition
Clubs and Certification Programs
Outreach
Star parties at the UND Observatory are open to the public.
External Links