Sepideh Hooshyar
From AstronomyOutreach network
(Difference between revisions)
Line 1:
Line 1:
-

[[File:Sepideh -filmens-billlede -lavkant -sepideh-med-teleskop -credit-paul-wilson-5f9ce8b86bafec0b2227471c42a8e4727906c6de-s800-c85.jpg|right|thumb|300px| "Sepideh Reaching for the Stars" Poster.]]'''Sepideh Hooshyar''' (born 1994) is an Iranian astronomer and physics expert. Sepideh was the subject of an award winning documentary film "Sepideh Reaching for the Stars" that has been screened and broadcast worldwide. The documentary written and directed by Berit Madsen premiered in-competition at the 2013 International Documentary Film Festival Amsterdam on November 24, 2013, and in-competition in the World Cinema Documentary Competition at 2014 Sundance Film Festival. The film chronicles the life and challenges of a young Iranian woman who dares to dream—of a future in science, astronomy, and space exploration.

+

[[File:Sepideh -filmens-billlede -lavkant -sepideh-med-teleskop -credit-paul-wilson-5f9ce8b86bafec0b2227471c42a8e4727906c6de-s800-c85.jpg|right|thumb|300px| Sepideh ]]'''Sepideh Hooshyar''' (born 1994) is an Iranian astronomer and physics expert. Sepideh was the subject of an award winning documentary film "Sepideh Reaching for the Stars" that has been screened and broadcast worldwide. The documentary written and directed by Berit Madsen premiered in-competition at the 2013 International Documentary Film Festival Amsterdam on November 24, 2013, and in-competition in the World Cinema Documentary Competition at 2014 Sundance Film Festival. The film chronicles the life and challenges of a young Iranian woman who dares to dream—of a future in science, astronomy, and space exploration.

==Biography==

==Biography==
---
Revision as of 22:23, 12 October 2019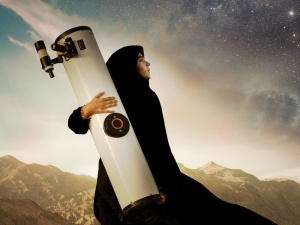 Sepideh Hooshyar
(born 1994) is an Iranian astronomer and physics expert. Sepideh was the subject of an award winning documentary film "Sepideh Reaching for the Stars" that has been screened and broadcast worldwide. The documentary written and directed by Berit Madsen premiered in-competition at the 2013 International Documentary Film Festival Amsterdam on November 24, 2013, and in-competition in the World Cinema Documentary Competition at 2014 Sundance Film Festival. The film chronicles the life and challenges of a young Iranian woman who dares to dream—of a future in science, astronomy, and space exploration.
Biography
Top astronomical observer in Iran(sofi and messier observing competition) From the age of ten, I became familiar with astronomy and continued it despite the many obstacles. I teach children and adults astronomy and I am very keen to promote astronomy among children in deprived areas. In addition to my education, I am currently working on building an educational observatory (especially for children). My Life Movie with name"Sepideh Reaching for the Stars" It has been broadcast in many countries around the world, and I have been invited to the WIRED2016 World Inspirational women Conference.
Outreach
David Levy is a prolific speaker, writer, and public astronomy outreach enthusiast, where he and his wife Wendee Levy are often involved in showing the public the night sky. Levy is available for personal appearances and lectures.
Awards
The asteroid 3673 Levy was named in his honour. Levy was awarded the C.A. Chant Medal of the Royal Astronomical Society of Canada in 1980. In 1993 he won the Amateur Achievement Award of the Astronomical Society of the Pacific. In 2007, Levy received the Smithsonian Astrophysical Observatory's Edgar Wilson Award for the discovery of comets. In 2008, a special edition telescope, "The Comet Hunter" was co-designed by Levy.David H. Levy Comet Hunter Special Edition Telescope
See also
External links