Sepideh Hooshyar
From AstronomyOutreach network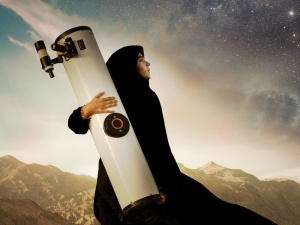 Sepideh Hooshyar
(born 1994) is an Iranian astronomer and physics expert. Sepideh was the subject of an award winning documentary film "Sepideh Reaching for the Stars" that has been screened and broadcast worldwide. The documentary written and directed by Berit Madsen premiered in-competition at the 2013 International Documentary Film Festival Amsterdam on November 24, 2013, and in-competition in the World Cinema Documentary Competition at 2014 Sundance Film Festival. The film chronicles the life and challenges of a young Iranian woman who dreams of a future in science, astronomy, and space exploration.
Biography
From the age of ten, Sepideh became familiar with astronomy and continued with her studies and observations despite many obstacles that she faced in her community and with her family. Eventually she became the top astronomical observer in Iran, winning the SOFI and Messier Observing competitions.
Now married, Sepideh is fully supported to study physics and pursue her passion of studying astronomy with the support of her husband. In addition to her education, she is currently working on building an educational observatory with programs dedicated especially for children. and I have been invited to the WIRED2016 World Inspirational women Conference.
Outreach
Sepideh Hooshyar teaches children and adults astronomy and she is very keen to promote astronomy among children in deprived areas.
Awards
See also
External links