Space Shuttle Endeavour
From AstronomyOutreach network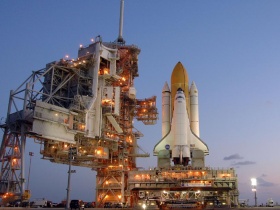 Space Shuttle Endeavour
was NASA's fifth and final space shuttle orbiter to join the fleet at Kennedy Space Center in Florida. Endeavour also is known inside the space agency by its designation Orbiter Vehicle-105, or OV-105.
Construction
Construction of Endeavour began on Sept. 28, 1987, and it rolled out of the assembly plant in Palmdale, Calif., on April 1991. It was built by Rockwell as a replacement for Space Shuttle Challenger.
Outreach and Milestones
For the first time, a national competition involving students in elementary and secondary schools produced the name of the new orbiter.
After receiving 6,154 entries, representing more than 70,000 students, NASA chose Endeavour and it was announced by President George Bush in 1989. The name comes from a ship chartered to traverse the South Pacific in 1768 and captained by 18th century British explorer James Cook, an experienced seaman, navigator and amateur astronomer. Cook's ship Endeavour established the usefulness of sending scientists on voyages of exploration.
In 1993, Endeavour embarked on STS-61, the historic first servicing mission to NASA's Hubble Space Telescope to correct the distortion caused by polishing the primary mirror to the incorrect shape. In doing so, HST's imaging quality exceeded expectations and led to many discoveries and images, including the Hubble Deep Field, that have provided worldwide inspiration to learn more about the cosmos.
In 1998 Endeavour delivered the first American component of the space station, the Unity Module, a connecting passageway to the living and working areas of the International Space Station on Mission STS-88.
In August 2007, Endeavour succeeded in fulfilling the mission of sending a teacher in space with the flight of the first educator astronaut, Barbara Radding Morgan an American teacher and a former NASA astronaut on Mission STS-118. She participated in the Teacher in Space program as the backup to Christa McAuliffe for the ill-fated STS-51L mission of Space Shuttle Challenger.
First Launch
Endeavour first launched May 7, 1992, on the STS-49 mission to capture the INTELSAT VI communications satellite and re-release it into a geosynchronous orbit.
Final Launch
Endeavour successfully launched on May 16th at 8:56 a.m. EST on its 25th and final mission, on STS-134. It is the second space shuttle retired from NASA's fleet.
External Links